The Highland Perthshire Classic Tour
Scotland

10th to 17th April 2021
Climbs include Schiehallion 3 ways, Ben Lawers, and the infamous Glen Quaich
Choose between Classic and Challenge routes each day
7 nights dinner bed and breakfast accommodation based in one hotel in Pitlochry – 6 days road riding
Full vehicle support from our experienced guides in fully equipped vans customised to ensure you have everything you might need on the road
Our customised support means you can ride at your own pace and enjoy your trip without any pressure.
Rail links to Pitlochry and transfers from Edinburgh airport available.
Scotland in miniature
Scotland is synonymous with high mountains, deep glens, dark forests, sparkling lochs, and a historical landscape that attracts visitors from around the world.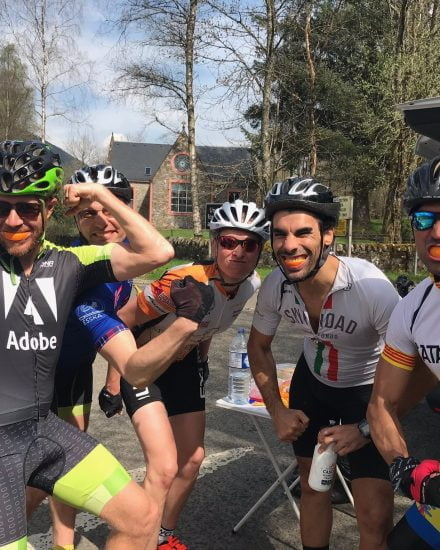 Highland Perthshire packs all of this into one area and boasts a fantastic network of roads to allow you to explore it all. We will base ourselves in the heart of Highland Perthshire in the small town of Pitlochry, riding out each day to explore this stunning part of Scotland. Join us on this Highland Perthshire road cycling tour and experience some of the best cycling routes in Europe. After your day of riding, you can explore the walks, shops, and distilleries in this beautiful little Highland town before dinner. Choose from a classic or challenge route each day and with our guides offering unparalleled vehicle support you can ride at your own pace in the knowledge that we will be on hand when you need us.
Classic Route 514km – 5696m ascent
Challenge Route 759km 8811m ascent
Our Highland Perthshire trip is based in one hotel in the heart of Scotland so you don't have to worry about packing each night and moving on to a different location. We will have exclusive use of the hotel for the duration of the stay allowing you to relax knowing that we are doing everything possible to keep you safe.
Join us on our trip and let us take you on a Revolution of Highland Perthshire.
---
"Being a social female rider, in a group of friends who rode the Atlantic Raid, I was unsure if I was capable of the six day cycle. Much to my surprise I found I was not out of my depth mainly because of the help of Scot and his team. At no time was I pressured or felt unable to complete the journey."

Atlantic Raid
Price – £1600
What's Included
Half-board accommodation in Pitlochry – dinner, bed, and breakfast
GPS files of each day's routes and detailed maps and notes
Optional Classic and Challenge routes each day
Full vehicle support from our experienced guides
Airport transfers from and to Edinburgh
What does full vehicle support mean?
With our customised vehicles we can ensure you are fully supported on the road. Our vans are fully stocked with snacks and water, tools, spares, and safety equipment allowing you to travel lightly on the road. We will carry a day pack for you, in which you can put whatever you think you might need during the day. We will follow the route and stop whenever you need us to and will set up impromptu feed stations at various points along the way.
This flexibility means you can ride at whatever pace suits you, negating any need to stop and regroup and allowing you to relax and enjoy your trip. You will be equipped with GPS and detailed hard copy routes to use each day, but our guides will always be on hand to keep you on track too.
Itinerary
Day 0: Arrival Day
You can either drive to our hotel for the week, or we can meet you at Pitlochry train station. Alternatively, we offer scheduled airport transfers from Edinburgh Airport included in the price (1hr 20-minute transfer time). On arrival you can check-in, assemble your bikes and then explore Pitlochry, or head out on a selection of short warm-up rides around the area.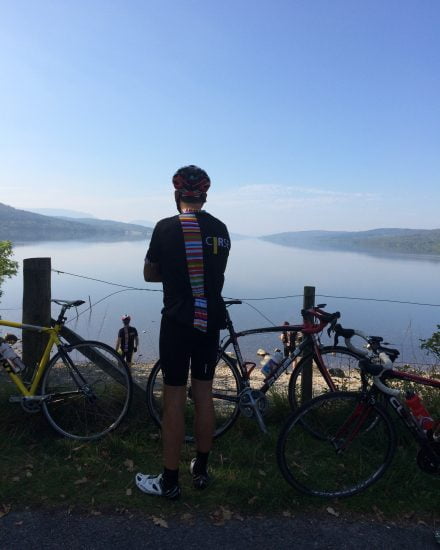 Day 1: Moulin Moor and Strathardle
Today we venture into the south-eastern edge of Highland Perthshire as we skirt the edges of the Highland Boundary Fault. From the hotel, the climbing starts immediately from the centre of Pitlochry as we head up high onto Moulin Moor and then drop down to Strath Ardle. If you are lucky a tail-wind will help you along towards Bridge of Cally where we head upwards again towards Easter Drimmie where views of the Cairngorms rise up behind us. We drop towards the "Berry" town of Blairgowrie before turning west along the five lochs road towards the cathedral town of Dunkeld. We then head north over an undulating route towards Pitlochry.
Classic Route: 85km with 1057m ascent
Challenge Route: 96km with 1259m ascent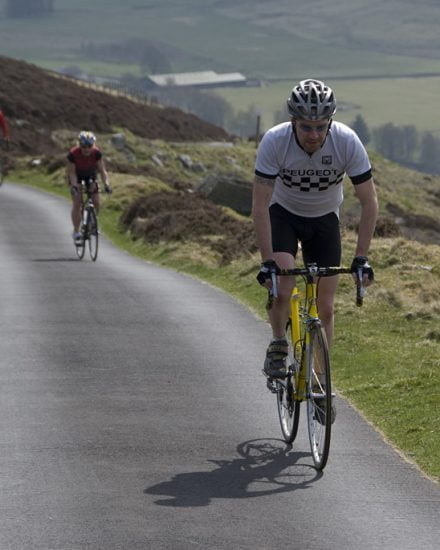 Day 2: Kinloch Rannoch and Dalnacardoch
Today we take in the first part of the Etape Caledonia Sportive route as we head out along Loch Tummel. To your left rises the conical peak of Schiehallion (more of that to come on Day 5). For those looking for a challenge you can continue on for a full loop of the beautiful and wild Loch Rannoch before we wind upwards towards Trinafour. The routes split here with the Classic option heading back to Pitlochry via Glen Errochty and the Challenge route heading up on the "Hydro" road towards Dalnacardoch. The route then heads down to the "Old A9" and down through historic Blair Atholl and Killiecrankie. One last challenge awaits the intrepid rider with a short, but sharp climb up to Trinafour, before returning to Pitlochry.
Classic Route: 73km with 699m ascent
Challenge Route: 124km with 1299 ascent
Day 3: The Sma' Glen and Strathbraan
Today we head west to the town of Aberfeldy before the big climb of the day up to Griffin Forest. We then head south towards Strathbraan where the Classic route turns east for a thrillingly fast ride down towards Dunkeld. Those who want more miles in their legs can continue south through the Sma' Glen before turning east and hugging the Highland Boundary Fault along to Little Glen Shee. A short ride back north will see us rejoin the Classic route at Dunkeld.
Classic: 77km with 928m ascent
Challenge: 122km with 1334m ascent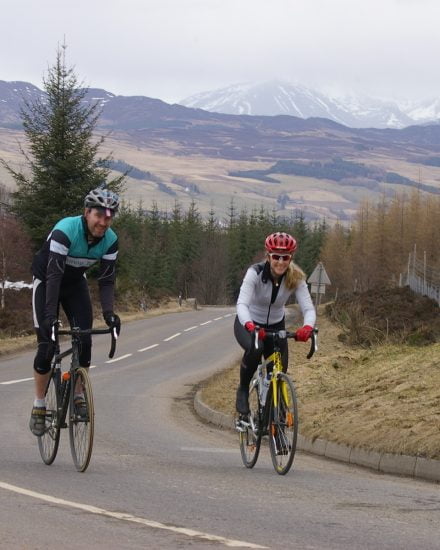 Day 4: Ben Lawers
Ben Lawers is the 10th highest mountain in the UK and today we will be heading over its shoulder. This is an epic day in every way with amazing riding through Glen Lyon, often described as the most beautiful in Scotland. If that isn't enough, those with strong legs will want to make another attempt on the Griffin Forest climb before heading up the short, but fearsomely steep Glen Quaich.
Classic: 124km with 1288m ascent
Challenge: 161km with 2000m ascent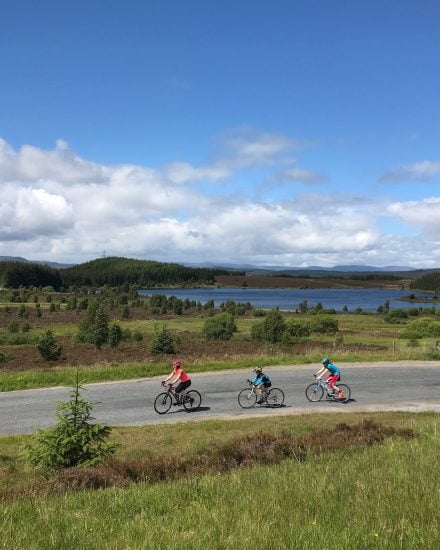 Day 5: The Amadan Challenge – Schiehallion
Scotland's diminutive answer to Mont Ventoux's Cingles Challenge. In Scot's Gaelic Amadan means a loon, or an idiot,and cycling up the three routes on Schiehallion may seem a little crazy, but trust us it is worth the effort. All three routes offer a completely different climbing challenge totaling 900metres of ascent over 14km. Before you get there however you have the southern shore of Loch Tummel to ride. This quiet little road hugs the shoreline leading you to the base of Schiehallion. We will return to Pitlochry via the north shore of Loch Tummel.
Classic: 72km with 973m ascent
Challenge: 93km with 1285m ascent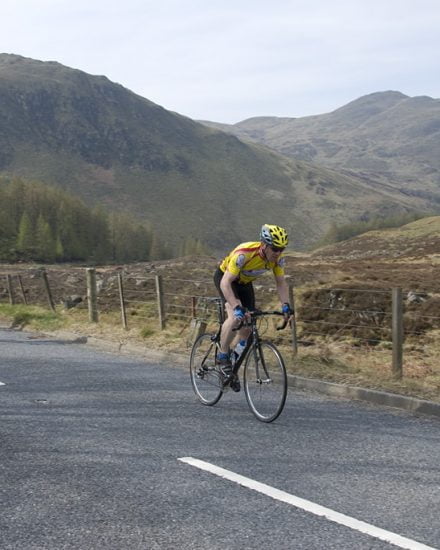 Day 6: Loch Tay and Loch Earn
Loch Tay and Loch Earn are well-known tourist spots in Highland Perthshire, but we will be riding along the less frequented southern shores and into the historic cattle trading towns of Comrie and Crieff. For those riding the Challenge route, this is a big day, but if after five days of riding you fancy a more relaxing day we will transfer you along the route to start at Killin at the western edge of Loch Tay where you can then head back east (hopefully with a tail-wind) to Pitlochry.
Classic: 83km with 715m ascent
Challenge163km with 1634 ascent
Day 7: Departure
Sadly it's the end of the trip. Time to back up and head home. For those requiring transfers we will provide these to the train station and Edinburgh Airport.