 Grass track racing at the Highland Games
Taken from the Blazing Saddles Column in the Tayside Courier Weekend Supplement 19,5.12
Scot Tares bites off more than he can chew cycling at the Highland Games
"Bike is a terrible thing that drives you to make excessive efforts, inhuman efforts. It takes a racing cyclist to understand what it means to hurt yourself on a bike. Apart from that, everything else about cycling is wonderful: the friendships, the tactics, the ambience, the glory" – Jacques Anquetil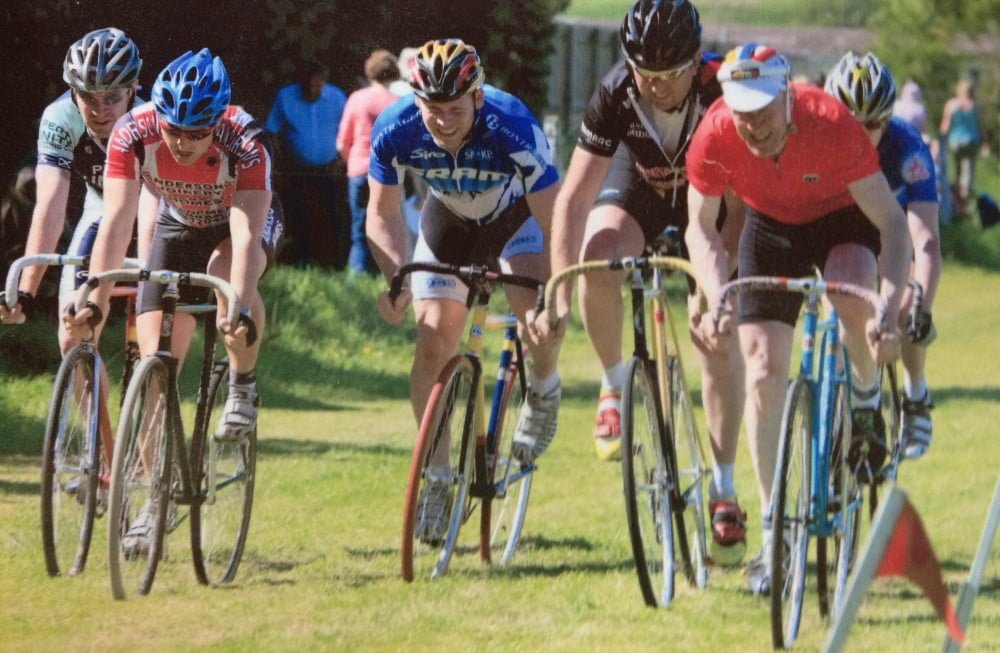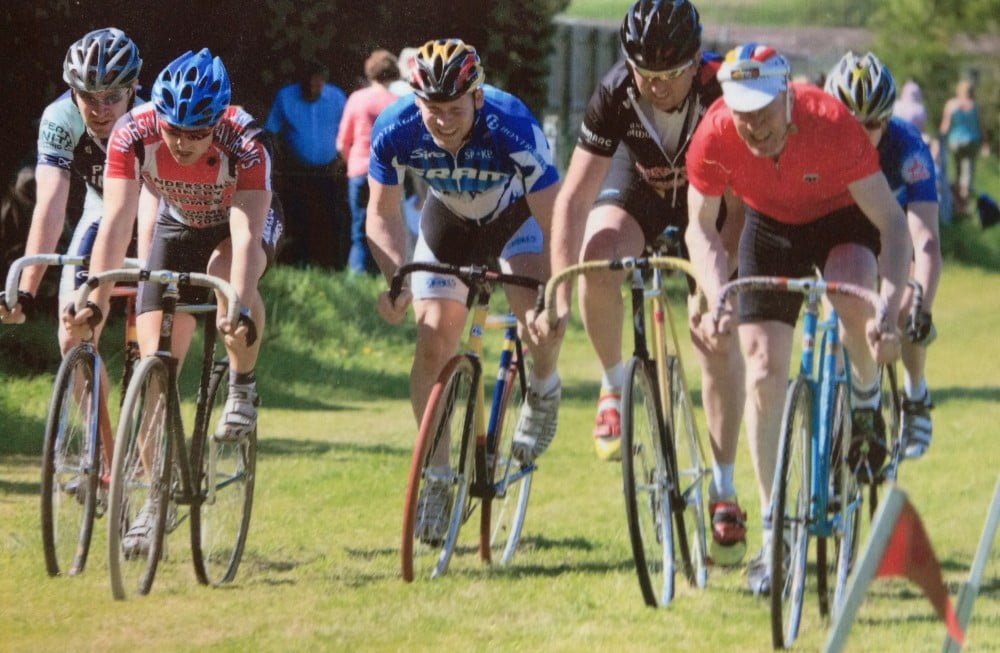 One of the great pleasures of cycling is the variety of disciplines within the sport; indeed, even the term 'mountain biking' is a generic phrase and covers many different activities that simply take place off-road, from downhill riding to dirt-crit racing.
One of the lesser known cycling disciplines is grass track racing which happens regularly throughout the summer at various Highland Games events around Scotland. The first Highland Games of the year that features grass track racing is Blackford, on 26th May, but Tayside and Fife have an abundance of games throughout the summer which include Dunkeld, Markinch and Glenrothes.
Races are usually run on a 400metre lap and several different races take place, usually culminating in a "Deil tak' the hindmost" showdown. This a frantic multi-lap sprint where the last rider across the line each lap is withdrawn from the race until the final three fight it out for the top places.
From a spectator's point of view the racing is great viewing and closely-fought competitions provide great excitement. For the riders, the effort is full-on and lung-bursting where knowledge of the track conditions at each event is invaluable in choosing the correct gearing. At tracks such as Blackford where the back straight drags up, too big a gear can prove to be fatal and the rider will "blow" as he sprints to maintain the pace on each lap.
I remember watching my first grass track race in Dunkeld years ago and thinking, "That looks easy!" I duly registered with the Highland Games Association, picked the games I was going to ride at and arrived at my first race full of confidence. How wrong I was; despite having experience in hard track racing atCairdPark, road racing and XC, I suddenly found myself hanging on for dear life. Despite being way out of my depth back then, both in knowledge and fitness level, I learned a lot and had the time of my life as we raced in front of large crowds often just inches away, racing full-on, shoulder to shoulder, doing some of the most exciting cycling I've ever done.
If you are interested in racing, then I would heartily recommend "grass track", and for youth and junior riders, it's a great experience to ride in front of cheering crowds and have a great day racing on the bike. Even if you don't want to race then they are still great races to spectate at; just don't go thinking, as I did, "That looks easy".
Cycle Route – Kinkell Bridge to Balgowan
If you are heading to Blackford then this short road loop in Strathearn is a lovely ride on quiet roads:
Route:
Kinkell Bridge to Balgowan
Type:
 Easy Road ride
Map:
OS Landranger 1:50,000 Map 58
Description:
Start at Kinkell Bridge, just north of Auchterarder (NN 933 167) and follow the old Roman Road past Trinity Gask. Turn left at Findo Gask, towards Balgowan where you will turn left and cycle for approximately 2 miles, before turning left for St David's. At the next junction turn left again to return to Kinkell Bridge
For the more adventurous:
The roads around Strathearn offer a great network of routes that can be inter-linked, so get out there and explore.
Distance:
14 miles
You can find out all about the Highland Games happening around Scotland at the Scottish Highland Games association at http://www.shga.co.uk/
Copyright DC Thompson 2012