 Cycling in the Rain
Taken from the Blazing Saddles Column in the Tayside Courier Weekend Supplement 8.9.12
Scot Tares is convinced that riding in the rain is good for the soul.
"Raindrops keep falling on my head but that doesn't mean my eyes will soon be turning red. Crying's not for me cause I'm never gonna stop the rain by complaining. Because I'm free. Nothing's worrying me.- Hal David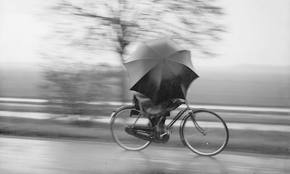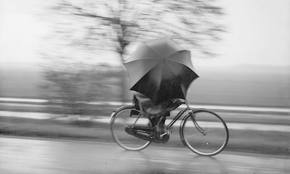 The great Irish cyclist, Sean Kelly, once intimated that the only way to tell whether the weather was suitable for riding in was to go out and ride in it and then decide if it was too cold or wet on your return. This philosophical approach to cycling went through my head as I cycled through the rain, timing my pedal cadence to the drip of water from the tip of my cycle helmet; one drip to four turns of the pedal. I concentrated on this, mainly to distract me from the continuous spray flicked up by my front wheel; my water-proof overshoes had all but surrendered their defence of the water that was now seeping into my already freezing cold feet. My red raw knees looked like a couple ripe beef tomatoes, ready to split from their skin and my white fingers ached as if they had been shut in a door. Such were the pleasures I had cycling one summer's evening, but strangely I was enjoying myself.
Now my friends and family will tell you that I have a meteorological pessimism that can see me thrown into an apoplectic despair at the sight of one far-off cloud on the horizon on an otherwise bright summer's day. However, I do have a masochistic enjoyment; some would call it an insane love, of riding in the rain. This weather-related penance I put myself through is, I believe, inherent in many cyclists and outdoor enthusiasts as we love the challenge of pitting our steely resolve against the worst the elements can throw at us. Part of this enjoyment comes from the stories to be told post-ride; some of these can even enter cycling folk-lore for years to come. Such stories are subject to exponential  exaggeration as the tale is told and re-told, thus a light drizzle during a ride, in the telling of the story months and even years down the line, becomes hailstones as big as golf balls.
I can count on one hand the memorable stories I have of cycling in great weather, but my tales of derring-do in the worst of conditions are enough to burst out of the doors of a not inconsiderable sized bike shed. This may, however, also be due to the amount of good weather days not being more than I could count on one hand. Perhaps it is an innate quality that runs through the veins of cyclists in Scotland; an acceptance of the wet reality and a determination to put a positive spin on it;  and as I look out my study window I see that the rain has just started again, so I'd better saddle up and get out and ride.
Scot Tares
Twitter: @SkinnyTyres
Where to Ride: A road ride around Knockhill, Dunfermline
Location:
Cleish – Knockhill Circular – Moderate Road Ride

OS Map 58 Landranger 1:50000 –

Start in Kinross  NT119016

Distance:
23miles/ 37km
Details:
Starting in Kinross this hilly road circuit takes you out on the un-classified road past Gellybank and up through Nivingston Crags. Join the B914 for a short section west, before turning north on the A823 past Knockhill. Just beyond Hill End turn east again on the un-classified road to Cleish and then back to Kinross
Copyright DC Thompson 2012