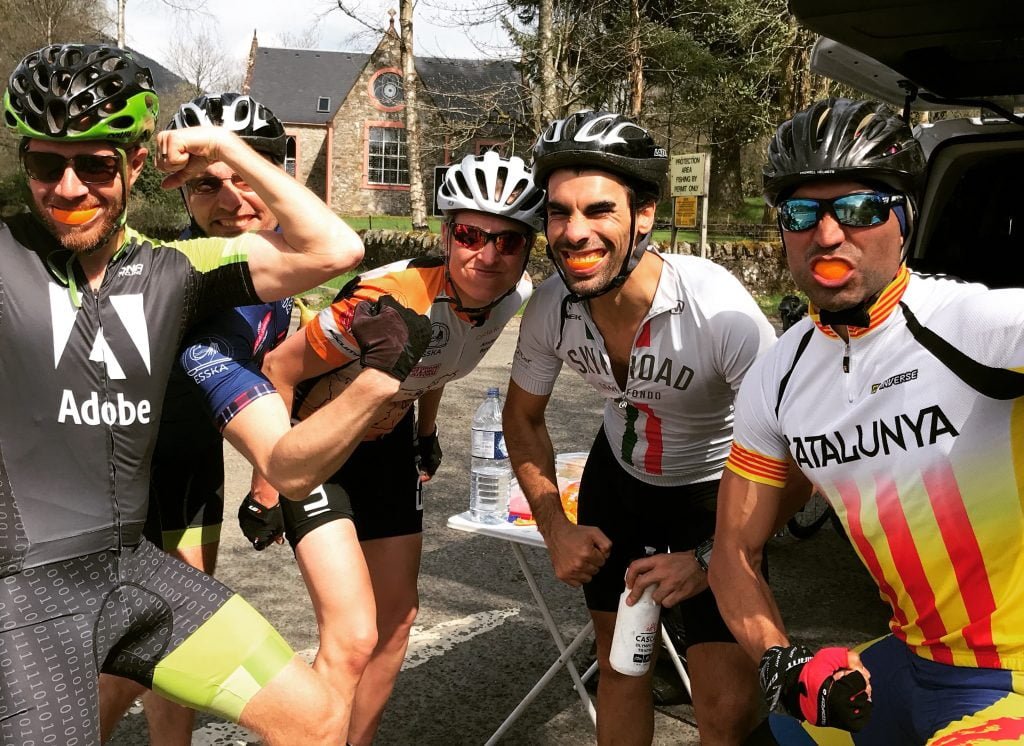 What a year 2018 has been.
From riding with Zoe Ball and Greg James to cycling through the Channel Tunnel 2018 has been an amazing year.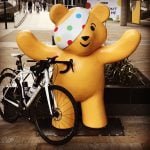 2018 has been an incredible year for Scot from Skinny Tyres. He has cycled across the length and breadth of Europe, supported events for Sport Relief and Children in Need and worked with some great companies along the way. Skinny Tyres has also provided many coaching sessions from Bikeability school sessions to road cycling skill sessions for individuals. We have welcomed riders from six continents to cycle with us in Scotland and to add the cherry to the top of a great year Scot even got a chance to cycle through the Channel Tunnel. Read on to find out who we've worked with in 2018.
---
Marmot Tours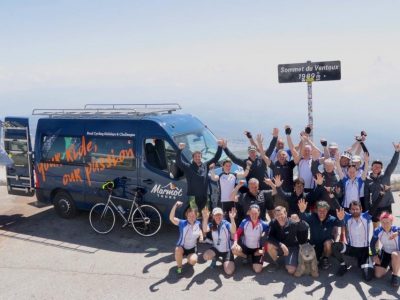 Scot started the season with some unseasonably cold weather in Gran Canaria and Tenerife. Guiding with Marmot Tours supporting riders get some early season miles in their legs, Scot spent five weeks on the two islands. The guiding season continued with Marmot Tours as Scot worked with them on tours in the Alps, Pyrenees, Massif Central and Provence. The Marmot Team always get together for a few days training in May prior to the summer season starting and 2018 was no different with the team gathering in Malaucène at the foot of Mont Ventoux. The team even managed to sneak in a ride on the legendary slopes. Scot finished his summer season with Marmot Tours in September, again on Mont Ventoux, where a 4am ride saw him manage to add his third ascent to the summit having previously climbed the two other routes in May.
---
Across The Divide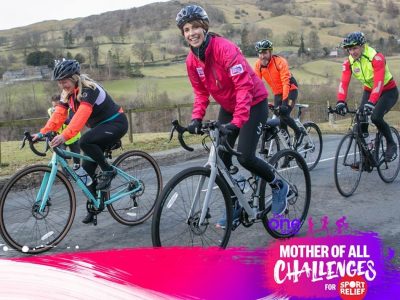 Skinny Tyres have worked on numerous events for Across The Divide for over six years and this year was no exception. We started the year working with Across the Divide on the BBC One Show "Mother of All Challenges" for Sport Relief. Working closely with ATD we supported the cycle event pre-planning and chaperoned the riders, Alex Jones and Greg White on the event in the Lake District
Watch the "Mother of All Challenges" Cycle Preview here.
Next up with Across the Divide was the Youth Adventure Trust Taylor Wimpey Challenge 2018 in Snowdonia National Park where we put together a team to route mark the cycling challenges across roads and mountain tracks.
In October we supported the BBC Countryfile Ramble for Children In Need at Kirroughtree Dark Skies Park in Dumfries and Galloway as lead coordinators for Across The Divide.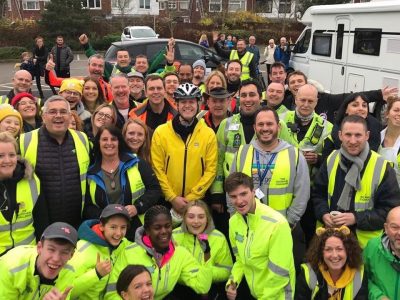 Our final event we worked on for Across the Divide in 2018 was the One Show Rickshaw Challenge for Children In Need.
This event started in 2010 when One Show presenter, Matt Baker rode a rickshaw across the length of the UK.
Eight years later and it has become a phenomenon with thousands of people lining the roads to cheer us on as we pedalled from Calais in France, through the Channel Tunnel, eventually finishing at Media City in Salford. Along the way the six young riders pedalling the rickshaw raised over £4.5 million for Children In Need. Scot and Skinny Tyres have been privileged to have been involved in this event and work with Across the Divide for six years now as chaperone riders and riding the route prior to the event.
---
Threshold Sports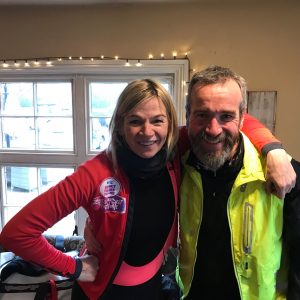 2018 was the first time we had worked with Threshold Sports , but already we are putting dates in the diary for 2019. Our mission for 2018 was to provide chaperone riding support for Zoe Ball and Professor Greg White on "Zoe's Hardest Road Home" as she cycled over 5 days and 350 miles from Blackpool where she was born to Brighton where she now lives, to raise money for Sport Relief and to increase awareness for mental health issues affecting people today.
---
Limelight Sports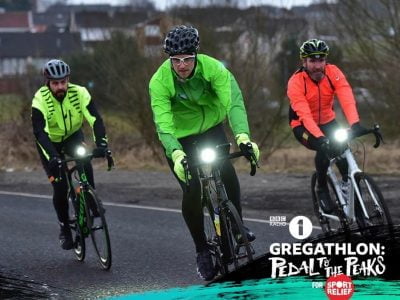 Limelight Sports were another company that Skinny Tyres worked with for the first time in 2018. Riding as a chaperone rider for Radio 1 DJ, Greg James, as he completed the final 120 miles from Glasgow to Fort William on his Sport Relief "
Gregathlon – 3 Peaks Challenge". The weather was atrocious and the riding hard, but we Greg made it and raised over £1 million for Sport Relief. You can watch Scot from Skinny Tyres (in the bright orange Assos jacket) in action with Greg James here.
---
Cycling Scotland
We have worked throughout the year with Perth and Kinross, Angus and Dundee City councils to deliver Cycling Scotland's Bikeability courses to schools across these regions, training pupils in Level 1, 2 & 3 Bikeability and delivering CTA (Cycle Training Assistant) courses to teachers and volunteers.
---
ESSKA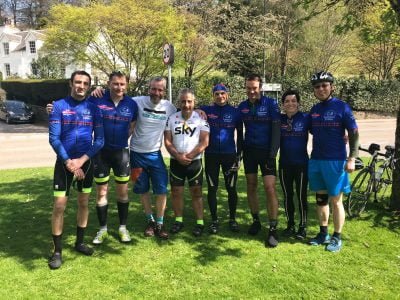 The European Society for Sports Traumatology, Knee Surgery and Arthroscopy (ESSKA) held their 2nd bi-annual conference in Glasgow in 2018 and over 40 of their members joined Skinny Tyres on a four-day cycle tour of the Trossachs and Highland Perthshire. Riders came from as far afield as Russia, China, South America and the USA to ride some of the finest routes in the UK before returning to Glasgow for the start of their conference.
---
Aberdein and Considine
Skinny Tyres doesn't just support you out on the road when you are cycling. Behind the scenes, we are constantly preparing and working on routes for individuals and groups who are completing personal cycle challenges to raise money for charity. For Aberdein and Considine we prepared a route for one of their members of staff who was riding from Newcastle to Aberdeen, stopping off at all their branch offices along the way.
---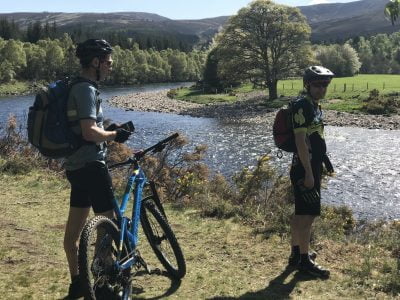 Coast to Coast
Two individuals asked us to support them on a MTB/ gravel bike off-road route riding across Scotland from coast to coast. Starting in Aberdeen we travelled for four days across some stunning scenery to finish at the most westerly point on the
British mainland at the lighthouse at Ardnamurchan point.
---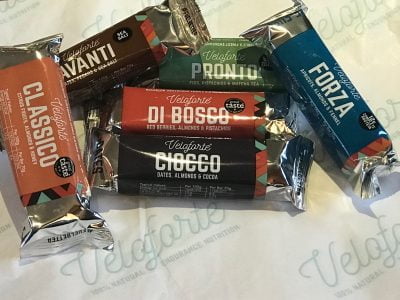 Veloforte
At Skinny Tyres we are very fussy about what we eat when we are riding our bikes, so we are delighted to have been munching our way through a selection of Veloforte bars on our trips in 2018. With new flavours on the way for 2019 we are looking forward to ordering more to keep us pedalling.
---
What a year it has been – Bring on 2019