About Skinny Tyres
Skinny Tyres was established in the Spring of 2009 by business owner Scot Tares purely "for the love of cycling".
---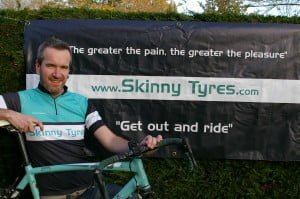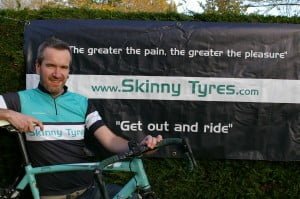 Scot was keen to set up a business that allowed other cyclists to experience the same passion that he has for cycling in the Scottish Highlands. Scot has been a keen amateur road cyclist for many years and has several years experience of organising and running open road races for British Cycling. He has raced throughout Scotland, both on and off road and taken part in numerous sportives. An enthusiastic, some would say obsessed, club cyclist Scot has brought this love of the sport to the business. Scot is also a British Cycling event organiser, British Cycling Level 2 Coach (with discipline specific units in road, time-trial and mountain bike) and an Assistant Commissaire. He is also a qualified trail cycle leader.
In the Summer of 2009 Skinny Tyres was recognised by Scottish Enterprise when they won the prestigious Tourism Innovation Fund Award, and were also shortlisted as a finalist in the Perthshire Chamber of Commerce Star Awards category for new business.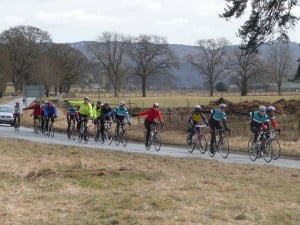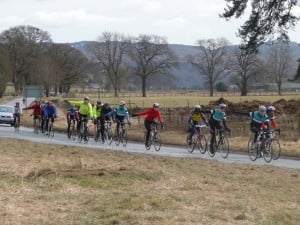 Based in Highland Perthshire, Skinny Tyres was set up to give cyclists from across the world the opportunity to experience some of the best cycling roads in Europe. Our trips let you ride with like-minded individuals and have the luxury of  all aspects of your trip being catered for, allowing you to concentrate on pushing those pedals. We are concious that a lot of people new to the sport are keen to find as much out about cycling as possible and at Skinny Tyres, we are keen to create that friendly environment where you can ask all those questions and gain knowledge from our experienced guides.
Skinny Tyres packages are all-inclusive providing fitness training, workshops, accommodation, meals, massage, entertainment and on-road cycling along some of the most spectacular routes in Scotland.  No part of your trip will be overlooked to ensure your needs are met, so all you need to do is ride. In addition, we can organise bespoke days, weekends and full weeks for individuals, corporate clients, cycling clubs, groups and families.
---
Meet the team
Skinny Tyres has a great team of cyclists that support the logistics and guiding of our trips. All our riders are very competent cyclists who have race and sportive experience and are passionate about supporting others to get the most out of their cycling. We hand pick the riders to be part of our team to ensure that we have a depth of knowledge and experience, but also to ensure that we have riders who will help you become the cyclist you want to be.
---
Scot Tares
A qualified Level 2 British Cycling Coach in Road, Time Trial and Mountain Bike, he is also a qualified MBLA Trail Cycle Leader. He is currently studying for his Level 3 Road Cycling Coaching Award. Scot has been cycling since he was two years old. Steeped in the sport he is also an SICI cycle fitter, race organiser, coach of the Tay Titans junior club and a competitive cyclist. He writes a weekly cycling column for the Tayside Courier and Advertiser newspaper, and has also contributed articles for Cycling Weekly and Cycle Highland Perthshire. In his spare time he is also the Director of Skinny Tyres
I own six bikes. Three of these are fixed wheel bikes. A Specialized Langster that I do all my winter training on, a 1982 Raleigh track bike that I have used at grass track races and a 1952 Flying Scot. I believe you can never have too many fixed wheel bikes.
My favourite bike is my Dad's old 1952 Flying Scot Track bike
Best ever cycling moment – There are so many to choose from. Probably one of the most recent was riding a 40 mile loop at Lochinver with Toby (below) and another friend. The weather was sparkling, the roads empty, I was on form and it was probably the best 40 miles I have ever cycled. Another recent one was cycling over Ben Vrackie in Pitlochry on a MTB in a blizzard in winter at night in the dark. Seriously! There were about ten of us out and we were buzzing by the end.
Worst ever cycling moment – when the cleat on my right cycling shoe sheared off during the Dundee Wheelers reliabilty ride and I found myself with 30 miles to cycle home, effectively one legged
I like cycling in Scotland because – the variety of terrain and scenery is unlike anywhere else in Europe. I never take it for granted and am constantly amazed at how lucky we are to live in such great cycling country.
---
Toby Green
A keen club cyclist for most of his life, Toby has ridden with clubs in London and Scotland and raced across the UK. When he tells you he has not done much training, you know he's about to rip your legs off. Toby just completed Lands End to John O'Groats in May 2010 and has plans for many other touring expeditions. Toby is also a fully qualified MBLA Trail Cycle Leader.
I own seven bikes
Favourite bike – Now that's a hard one. My Ridley Excalibur? It's fast, light and responsive. My 1984 Falcon is so smooth it's like riding a pint of Guinness. My Genesis steel MTB, rocks off road. My touring bike? With Brooks saddle is like riding a thousand miles on an arm chair.
Best ever cycling moment – Has to be my first time riding up the Alpe du Huez
Worst ever cycling moment – When I'm on my bike i'm happy, so can't think of one
I like cycling in Scotland because – Cycling in Scotland gives mountains, great views, not much traffic and some of the most beautiful and challenging rides in Europe
---
Erni Hamilton
Is a keen triathlete and competes regularly. A strong cyclist, she has been riding with Skinny Tyres since day one and loves being able to help others achieve their goals. Erni also works with the Tay Titans Junior Cycling Club
I own bikes four. Too many bikes, as my non-cycling friends and family put it and not enough according to cycling pals. These include my Giant TCR (see below), my Giant winter bike, and an Orange Mountain Bike – we seem to part company regularly. I have the scars to prove it.
Favourite bike – My Giant TCR Hybrid. Not the most fancy, expensive or lightest, but we just get on well together and I love the DT Swiss wheels on it :O)
Best ever cycling moment – So many! Mount Ventoux and frankfurt Ironman routes were both spectacular for overseas experiences. However I just love cycling in Scotland, one of the best moments was a day mountain biking at Laggan Wolftrax. I'm a roadie and have no balance at the best of times, but loved it and completed all the runs.
Worst ever cycling moment – The Ironman training, 120 mile training ride that ended up being mostly in the rain and very hilly. I was crying as I realised I had 30 miles of riding into a howling headwind and rain, I was on my own, so no shelter and then crying even more when I realised I had to get off the bike and run for 13 miles to complete the session. Never again! A close second would be the 100 mile TT at Invergordon. 100 miles into a headwind on a dual carriageway. And here was me thinking I'd get to see some nice countryside. How wrong could I be.
I like cycling in Scotland because – no matter what the weather the scenery is usually stunning and has so much to offer. I have seen parts of Scotland I otherwise wouldn't have if I didn't cycle, and coffee shops I wouldn't have known about
---
Anne Greig
 Is a keen bike rider and enjoys racing in all disciplines of the sport. Her enthusiasm and enjoyment for cycling knows no bounds and she will travel around the UK to compete and race.
I own three and a half bikes. My new cyclo cross frame is currently being added to.
Favourite bike –  my road race bike, a silver and blue Giant TCR, which i've had for about seven years.
Best ever cycling moment – Competing in the 2008 British Road Race Championships. It was nerve wracking and exhausting, but what a thrill to be on the start line with Nicole Cooke and Emma Pooley. A great road racing experience I will never forget.
Worst ever cycling moment – Being chased by a dog up a steep hill, and surprisingly getting bitten. I must improve my hill climbing speed.
I like cycling in Scotland because – It's breathtaking to cycle through the spectacular natural beauty, passing amazing historic sites on some really quiet roads.
---
Jon Soal
Has a huge amount of cycling experience and is one of those people who will do anything to help you reach your goals. Constantly smiling, even the wettest day on a bike can't curb his enthusiasm
I own three bikes
Favourite bike – The one i'm riding at that time
Best ever cycling moment – Completing the Etape Caledonia in under four hours or riding 150 miles in a day over Glenshee and Deeside.
Worst ever cycling moment – A broken scaphoid (wrist) from crashing my mountain bike. It resulted in six months recovery, with no riding allowed.
I like cycling in Scotland because – It has great scenery and it's so varied, with loads of quiet roads. There is aways something different to see.