 The 1958 Tour de France
Taken from the Blazing Saddles Column in the Tayside Courier Weekend Supplement 7.7.12
In 1958 Brian Robinson became the first Brit to win a Tour de France stage.
| | |
| --- | --- |
| Stage | 7 |
| Route | St. Brieuc -Brest |
| Distance | 110 miles (170km) |
| Date | Friday 2nd July 1958 |
| Stage Winner | Brian Robinson (Great Britain) |
| YellowJersey | Raphael Geminiani |
Today is stage 7 of the 2012 Tour de France and it holds special significance for British cyclists.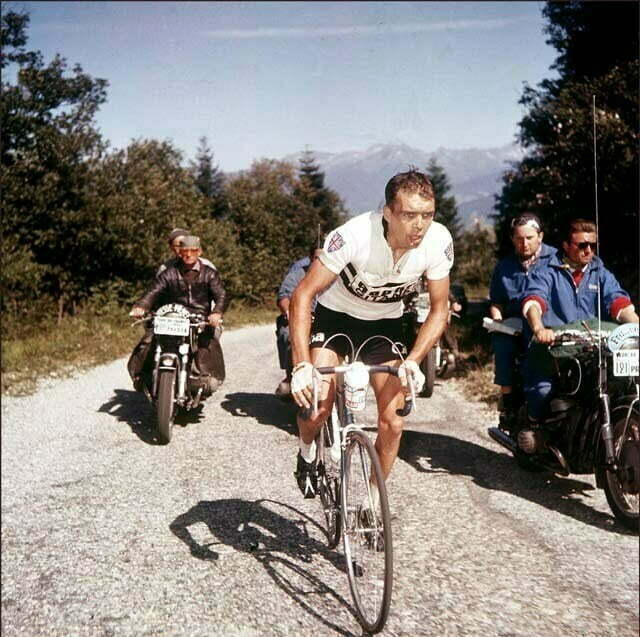 Brian Robinson's first stage win in the Tour de France was a triumph for road cyclists in Britain. In the late 19th century the National Cyclists Union (NCU) had banned road racing in theUK and it took the concerted efforts of many, including Percy Stallard, to encourage regional groups of clubs to affiliate to the newly formed British League of Racing Cyclists (BLRC). Under the BLRC, these clubs started organising road races against the wishes of the NCU and a bitter feud began that was to last for many years. Under this schism the NCU was asked to send a British team to the 1955 Tour de France and this team featured Brian Robinson, who had already been prominent in other Continental European road races. It was a tough race for all, and Brian Robinson and Tony Hoar were the only British riders to complete it.
After the 1955 Tour de France, Hercules, the main sponsor of the British team, ceased to exist and it shows the tenacity and determination of Brian Robinson that he continued to race in Europeá la musette, without a contract and unpaid and relying on prize money to pay his way. By 1958 he was firmly established as a racer and earned enough to make a living, though he never made it to the top end of the earning hierarchy.
Robinson's stage win in 1958 was unusual as he never climbed the podium to receive his sash and flowers. Earlier in the day Robinson had been in a breakaway group with Frenchman Jean Dotto and the Italian Arrigo Padovan. Robinson felt strong and as the chequered flag approached he wound up his sprint only to find that Padovan left his sprinters line, obstructing Robinson into second place. It wasn't until Robinson was back in his hotel having dinner that he learnt that a "stewards enquiry" had relegated Padovan to second place, thus giving Robinson the first ever Tour de France stage win for a British cyclist. Although he missed the glory of the podium appearance, Robinson went home "chuffed, because I knew I'd got my contract safe for the next year and probably the year after."
Brian Robinson retired in 1961 after a seven year professional career that saw him take 11 professional wins, including a second Tour de France stage win in 1959.
| | |
| --- | --- |
| 1995 Prologue results | 1958 TdF Final Overall results |
| 1. Brian Robinson | 1. Charly Gaul (Luxembourg) 116hr 59min 05sec |
| 2. Arrigo Padovan | 2. Vito Faverro (Italy) @ 3min 10sec |
| 3. Jean Dotto | 3. Raphael Geminiani (France) @ 3min 41sec |
Scot Tares
Copyright DC Thompson 2012