 Barry Hoban and the Tour de France
Taken from the Blazing Saddles Column in the Tayside Courier Weekend Supplement 14.7.12
Scot Tares looks back to a sad day in British cycling history
In 1967 Barry Hoban won the 14th stage of the Tour de France, his first, under tragic circumstances.
| | |
| --- | --- |
| Stage | 14 |
| Route | Carpentras – Sète |
| Distance | 121 miles (201.5km) |
| Date | Friday 14th July 1967 |
| Stage Winner | Barry Hoban (Great Britain) |
| YellowJersey | Roger Pingeon |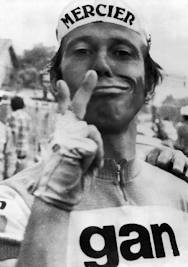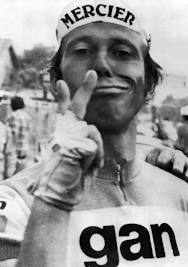 During his 11 year career Barry Hoban won eight stages of the Tour de France and this record for a British rider was held until Mark Cavendish surpassed it in 2009. Hoban's first stage win came on stage 14 of the 1967 Tour de France and should have been a celebration of a new force in British cycling. Instead it was as an emotionally charged win as a result of the tragic death of his Great Britain team mate, Tom Simpson on the slopes of Mount Ventoux. Simpson collapsed on the ascent of the "Giant of Provence" and despite the efforts of Dr Dumas; he died where he fell, 3km from the summit.
Born in Wakefield, Barry Hoban rose quickly through the amateur ranks and he moved to Northern France in 1962 to follow his dream of racing as a professional. He set himself a target of achieving his dream within two years and after winning 35 races in those years he was awarded with a professional contract with the Mercier-Hutchinson – BP team, with a salary of £20 a week, which as he remembers, "…was more than a Manchester United player earned". However the French teams that the British riders tended to race for would pick French riders above others for selections in the Tour de France. This meant Hoban missed selection for the race in 1966 and that may have been the same situation in 1967, but for the Tour organiser's decision to revert temporarily to national teams, rather than the recent trade team format. This meant that Hoban raced alongside Tom Simpson and Vin Denson among others in the British team.
The evening after Simpson's death, the peloton agreed that stage 14 would be a tribute to the popular Tom Simpson. They decided that a British rider would win. However, even today controversy surrounds whether that British rider was meant to be Barry Hoban, or if the peloton had agreed it would be Tom's close personal friend, Vin Denson. On the day Hoban crossed the line first, his tearful eyes hidden behind dark sunglasses.
Hoban went on to win many more races including several more Tour stages and was a dominant force for British cycling on the continent throughout his career. In a strange twist to his story Hoban later married Tom Simpson's widow, Helen and brought up his children Joanne and Jane.
Scot Tares
Copyright DC Thompson 2012