 Cycling and Old Age
Taken from the Blazing Saddles Column in the Tayside Courier Weekend Supplement 25.8.12
Scot Tares looks forward to retirement so he can get out on his bike more
I feel that I am entitled to my share of light-heartedness and there is nothing wrong with enjoying one's self simply, like a boy. ~ Leo Tolstoy In response to criticism for learning to ride a bicycle at age 67
As long as I have cycled I have known of men and women, in the autumn of their pedalling careers that look and talk like they are getting on a bike for the first time. I am often jealous of them, not only do they have a life-time of tales from the saddle, but now, usually retired, they have even more time to get out and ride every day.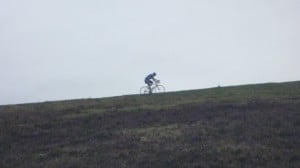 Just as Tolstoy hinted at, riding a bike takes you back to your days of youth, where you had nothing to do and all day to do it. When I was young my bike accompanied me on my adventures like a dog at my side. It sat patiently at the bottom of trees I had stopped to climb, and kicked wildly as we hurtled down hills. During school holidays we would be out from first thing until the sun started to set and the voice of my Mum would call out for me to get home for a bath and bed,
40 years on and as soon as I sit on a saddle and turn the pedals the same feeling kicks right back in and it is this feeling that makes the bike such a wonderful invention, it's a time machine for the soul. During periods where I have cycled less than I would have liked or worse not at all, my mood bears the burden of every one of my years. Often when I get like this my wife is heard to shout, "Just go and get out on your bike and stop bothering me".
Whatever age of cyclist you are, writer and journalist, Malachi O'Doherty's new book "On My Own Two Wheels – Back in the Saddle at 60" is worth a read. He tells the story of his journey to regain his youth by getting back on the bike and poignantly talks of bikes "propped decaying against a yard wall", being symbolic of "lost freedom", the bike being a relic of a life the owners don't live anymore. It's a powerful story and one that is common among all cyclists, old and new, returning and lapsed; the power of the bicycle to invigorate life, rekindle old friendships and spark new ones; it frees the mind and body of the shackles of age. As society strives for more and more ways to counter ageing, perhaps we should all turn and look at the simple bicycle.
Scot Tares
Twitter: @SkinnyTyres
"On My Own Two Wheels" by Malachi O'doherty is published by Blackstaff Press ISBN 978-0-85640-889-2
Where to Ride – A road ride around the Carse of Gowrie
Location:
The Carse of Gowrie

OS Map 53 Landranger 1:50000

Distance:
Various
Ascent:
If you stay on the south side of the A90, then the riding is pan flat
Details:
Kingoodie, to the west of Dundee is a good starting point to explore the Carse of Gowrie and the network of roads all the way to St Madoes. It's an area I rode in from an early age and the flat terrain in ideal for a family cycle.
Copyright DC Thompson 2012