 A night-time MTB ride on Ben Vrackie
Taken from the Blazing Saddles Column in the Tayside Courier Weekend Supplement 18.8.12
Scot Tares forgets some lessons of his youth, but survives to laugh about it
"Great things are done when men and mountains meet. This is not done by jostling in the street." – William Blake
For many an ex-pupil of Harris Academy, Mr Stibbles (I still find it hard to call him by his first name of Dave) will be a name that they remember from their days in PE. It is because of Mr Stibbles that I started going to the hills on foot, safe under his tuition and instruction. He was a pioneer of the Duke of Edinburgh Award at the school and indeed was recognised with an MBE for his efforts. It was with the Duke of Edinburgh Award that I also joined my first cycling club inDundee, "The Charles Star CC" in Menzieshill and took up many other activities that I continue to this day. The hillwalking skills that Dave Stibbles passed on to me over my three awards have stood me in great stead as I have navigated my way off mountains in complete white out conditions. He drummed into us the necessity of being fully prepared for all conditions and I still hike with enough supplies and equipment that would keep an Arctic explorer alive for months.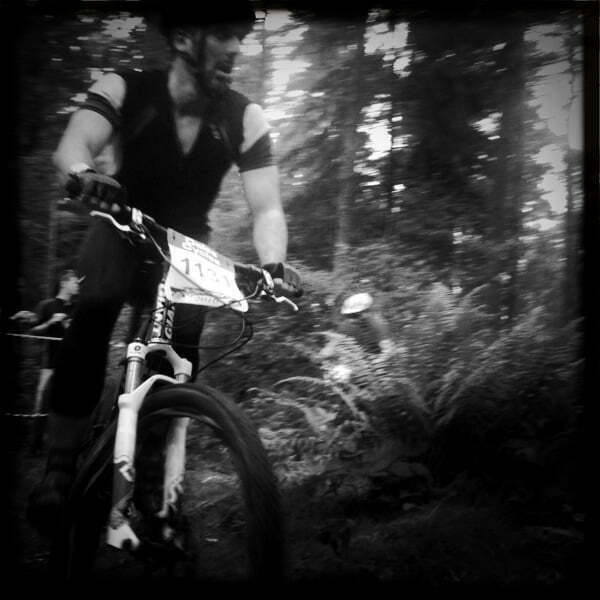 However, I fear that Dave Stibbles would have had his head in his hands if he could have seen me atop Ben Vrackie one winter's evening during the heavy snows of 2010. If I had been walking I would have been fully prepared, but here I was with a group of riders from Pitlochry, mountain biking through the darkness up the hillside to Loch a Choire in little more than mountain bike ¾ length shorts and a cycling top. I had a pack with the basic gear, but the forecast was for snow and when it started it was horizontal, but we carried on, shouldering our bikes across the top of Meall h-Aodainn Moire, now walking in ankle deep snow. Our headlamps caught the snow as it blew into our faces and gave the impression of travelling through space at warp drive. We reached the top and jumped back on the bikes and the descent to Killiecrankie was fast and stunning as we fought to keep the bikes upright in the rutted and snow filled track. The ride back to Pitlochry along the River Garry was fast and furious as we whooped through the narrow tracks at the river's edge, finally emerging at Faskally and then into the centre of Pitlochry. As we rode through Pitlochry laughing, we felt alive; the contrast of lights in houses as people sat in front of televisions to the experience we had just battled through gave us huge grins and made us feel that we'd made the most of an otherwise quiet winter's evening. The spirit of adventure sparked all those years ago by Dave Stibbles and the Duke of Edinburgh Award was still beating strong.
Imo, free and safe download. Imo latest version: Free PC-Based Software to Send Text Messages and Video Calls. IMO for Windows is a free application which allows calls. imo messenger for windows desktop Message and video chat with your friends and family for free, … WePhone – free phone calls & international calling.
The route on Ben Vrackie is a challenging route in summer or winter and you should be fully prepared for challenging mountain conditions.
You can find out more about the Duke of Edinburgh Award at – http://www.dofe.org/
Where to Ride – A Mountain Bike Ride on Ben Vrackie, Highland Perthshire
Location:
Ben Vrackie

OS Map 43, 52 & 53 Landranger 1:50000

Start – NN 945 575 Pitlochry High Street

Distance:
9 miles/ 14.5km
Ascent:
984ft/ 300m
Scot Tares
Twitter – @SkinnyTyres
Copyright DC Thompson 2012