 Cycling and Fashion
Taken from the Blazing Saddles Column in the Tayside Courier Weekend Supplement 28.7.12
Scot Tares finds some style over speed on his bike.
 "I was style-conscious, because how the bike looked and how you looked on the bike were very important. They probably weren't, but it felt like they were."
Sir Paul Smith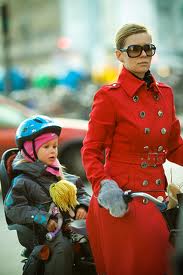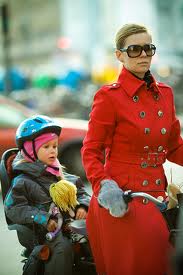 In a previous column I spoke of classic bicycle design, but this innovation and style is not just relevant to the bike; design and fashion is becoming big business in the cycling world. This is great news for commuters and leisure cyclists as no longer do they have to choose between functional, sport-styled cycling garments and every-day, but impractical, clothing. The term "Cycle Chic" is becoming common parlance as top designers and fashion brands, such as Paul Smith and Dolce and Gabbana, design cycle-specific apparel for the growing numbers of people who are turning to the bicycle as a means of transport and looking for a different style. Gucci and Chanel have even designed their own bicycles and the adverts in magazines such as Vogue are now commonly featuring bikes like the classically designed Pashley and cities such as Paris, Copenhagen, Amsterdam and Portland all have thriving "bike cultures".  With an anticipated opening in 2015, the Victoria and Albert (V&A) is set to cement the name of Dundee as a centre of culture, creativity and design, and what better way to get round a city of culture than on that classic of transport design: the bicycle. Not only is it quick and easy, but it opens up views that are just not seen from inside a car. Dundee has an impressive architecture at eye level, but on your bike you get the chance to pause and look up and appreciate the ornate architecture above you.
If you don't currently commute or travel in the city by bike, for whatever reason, the lack of something practical to wear shouldn't be one of them. A quick on-line search for "cycle-chic" will throw up a mass of sites all related to riding your bike while looking good. No longer is cycling a sub-culture and cycle-chic is offering cyclists a new way to express a unique individuality and have some fun at the same time. If cycling to work is something that you would like to do, then check if your employer runs a "Bike to Work" scheme. This successful government initiative will allow you to purchase a bike and accessories tax free with potential savings of up to 32% giving you plenty of affordable options to get yourself kitted out for some stylish city cycling.
Cycle Route: Invergowrie to Dundee City Centre
Last week we looked at an on-road commuting route into Dundee City centre. This week we look at an off-road option for the same journey.
Where:
Invergowrie Technology Park to Discovery Point
Distance:
4 miles/ 7km
Details:
This well maintained and often  used cycle path offers a delightful ride into town with a finish at Discovery Point and the site of the forthcoming V&A building.
Find out more:
Bike to Work Scheme:http://www.cyclescheme.co.uk/

Cycle  chic:

http://www.copenhagencyclechic.com/
Copyright DC Thompson 2012