 Bike Saddles
Taken from the Blazing Saddles Column in the Tayside Courier Weekend Supplement 4.8.12
Scot Tares tells why cycling need not be a "pain in the backside"
"There may be a better land where bicycle saddles are made of rainbow, stuffed with cloud; in this world the simplest thing is to get used to something hard"  – Jerome K. Jerome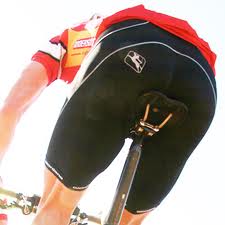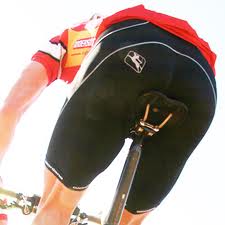 The one thing that puts most people off of cycling is the saddle. Excuse the pun, but it's been the butt of jokes and the bane of many a cyclists life ever since the invention of the bike. Even professional riders have been laid-off due to problems with painful saddle sores. However, with a few simple points you can make your time in the saddle more comfortable.
The first point is to realise that a saddle is not a seat. It is only designed to carry some, but not all of your weight. Your legs, hands and arms should also be employed in supporting your body.
The next point to consider is that a soft saddle does not necessarily constitute a comfortable one, just as a soft mattress is not always the best for sleeping on. The key is to make sure that you are sitting on your "sit bones" (ischial tuberosities). They are designed to bear your seated weight and employing them will ensure that less of the soft tissue areas are used to support your weight. Often, softer and padded saddles will compress and put extra pressure on the area between the sit bones; the softer saddle will also allow you to "slouch" in the saddle, often leading to lower back pains. The width of a saddle is also key here, as too narrow and your perineum will be supporting you; too wide and your inner thigh will start to chafe. Many bike shops now have the facility to measure your sit bones.
Excessively padded saddles can also cause chafing to the inner thigh, which leads to point three. Get good quality cycling shorts and don't wear underpants. It is worth investing in padded cycling shorts that are anatomically designed to suit cycling and reduce friction. Wearing baggier clothing and/ or underpants causes friction and leads to discomfort. It is also extremely important to ensure that your shorts are clean as shorts worn for more than one trip can lead to infection.
Your saddle can be adjusted in three different ways and each movement can have a dramatic impact on your comfort:
Height: Too low and your knees will hurt and you will tire easily; you will also find it harder to carry some of the weight in your legs. Too high and your body will rock from side to side as you try to reach the lowest point of the pedal, again this will cause friction to the inner thigh
Angle: The saddle should be as close to horizontal as possible. Extreme angles again cause friction, pressure and lack of support.
Fore and Aft: Basically how far forward or back the saddle is positioned, this measurement can be hard to judge, but a good rule of thumb is that the lumpy bit, below your kneecap (the tibial tuberosity) should  be above the pedal axle when the pedals are horizontal.
All of this is just a "toe-dip" in the deep water of saddles and I could fill the pages of the Courier with more and more information, but it's important to remember that cycling doesn't have to be painful. If you are unsure then speak to someone in your local bike shop, or a qualified bike-fitter. Also bear in mind that the more you ride, the more accustomed your derriere becomes to the saddle, so what more reason do you need to get out and ride?
Where to Ride – Lochore Meadows, Fife
| | |
| --- | --- |
| Location: | Lochore Meadows, Fife. OS Landranger Map 58 – NT171963 |
| Distance: | Various |
| Details: | On the western edge of the Lomond Hills Regional Park Lochore Meadows offers a varied trails and tracks suitable for all levels of off-road cyclist. There is even a skills area to hone your technique and the "Meedies Mountain Bike Club" are also based there: http://www.facebook.com/pages/Lochore-Meadows-Mountain-Bike-Club/190681855851 |
Scot Tares
Twitter – @SkinnyTyres
Copyright DC Thompson 2012