 A positive cycling story
Taken from the Blazing Saddles Column in the Tayside Courier Weekend Supplement 20.10.12
Scot Tares looks towards a bright future for young cyclists.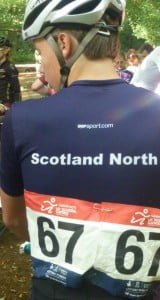 "After being encouraged by the team, pressured to perform and pushed to my physical limits I crossed a line I promised myself and others I would not: I doped. It was a decision I deeply regret. It caused me sleepless nights, took the fun out of cycling and racing, and tainted the success I achieved at the time. This was not how I wanted to live or race." – Michael Barry, a former team-mate of Armstrong's
For several years now I have coached children in cycling and last week I had the pleasure to be involved in coaching a group of 20 kids at the outdoor cycle track at Caird Park in Dundee. The vast majority had never ridden on a brakeless, fixed wheel bike before, but within the first few hours we had them racing each other around the track. The enthusiasm from each of them was infectious and as they sprinted for the line it was hard not to cheer out loud; I felt the same excitement watching them race as I had when I watched the track racing at the Olympics. As one rider crossed the line in his race heat, he pulled his foot out from the pedal and only just managed to keep his bike upright as he careered off the track onto the grass centre. It was spectacular and my heart was in my mouth as I ran over to check he was okay. Shaken, but unhurt, his first words to me were, "Did I win?"; I was happy to be able to tell him he had.
Later that evening, as I read through pages of online articles relating to systematic doping in professional cycling ranks perpetrated by many, including Lance Armstrong, I reflected on that young rider's winning mentality at the track in Dundee. It takes that kind of attitude to get to the top in sport and those who want to get there are faced with many difficult sacrifices and choices. However, the people and support systems in place to help inform these decisions must be supportive of the rider and place their very best interests at the heart of everything they do. It was sad, but not surprising, to read how many people in a position of trust: managers, coaches, doctors, riders and those in governance of the sport failed in that very fundamental aspect of protecting those in their charge; the winning mentality for them had crossed a dangerous line as they actively promoted a "win at all costs" culture that had banned performance enhancing drugs at its core. It is very easy to vilify the riders and the choices they made, but peer pressure can be powerful and dreams of success even stronger. Many ex-professionals who chose not to "dope" still look back with bitterness at how they felt chastised and pressured to leave the sport they loved because they were not willing to conform to the illegal practices going on in their sport.
Vidmate is an app that lets you download videos and songs from Vimeo, YouTube, Dailymotion, SoundCloud, Metacafe, and loads of other multimedia sites. FREE Download Vidmate ApK Latest 3.08 VidMate app is an easy to use and powerful android app to download
Despite calls from some quarters to move on and forget what has happened in the past, it is vital that answers are sought to the question of how systematic doping ever became part of professional sport; failure to do so will leave those that have crossed the line to bury their heads deeper in the sand and the future of professional cycling will be very bleak as a result.
A considerable measure numerous producers are outlining new models of mountain bicycles mountain bikes below $500 with elements like the costly ones. Underline this — Low valued bicycles don't mean low quality
For each of those riders at the track in Dundee and every other young cyclist that dreams of one day of making it to the top of their sport, their path will be difficult and it will take guts and determination to negotiate the obstacles in the way, but these obstacles are not insurmountable and are in fact part of what makes that effort worthwhile. However, never again should a young rider be put in a position where their success is measured at the expense of their integrity and to win they must sacrifice their own health and morals.
Scot Tares
Twitter: @SkinnyTyres
Where to Ride: A two Glen Route near Bridge of Earn
Where to ride: Glenfoot/ Glenfarg CircularA circular road ride with some challenging climbs
Location:
OS Landranger Map 58 NO 160159
Distance/ climbing:
13 miles/ 863ft
Details:
Starting at the Baiglie Inn at Aberargie this route can be ridden in either direction. If riding it clockwise, ride along the A913, before turning right at Glen foot . Continue on past Glen Tarkie, before joining the A91. At Gateside turn right on the A912 and descending back to Aberargie
Copyright DC Thompson 2012