 Muddy Bikes
Taken from the Blazing Saddles Column in the Tayside Courier Weekend Supplement 27.10.12
Scot Tares gets muddy on the trail, all for the joy of cleaning his bike afterwards.
"Cleaning a bike's like cleaning a toilet. If you do it regularly, it's fine and easy. If you wait, it's a truly disgusting experience" – Steve Gravenites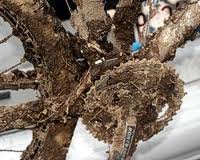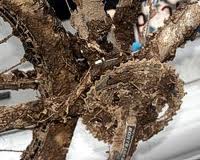 I've written before about cycling in the rain and it is one of those things where the thought of doing it is actually worse than the reality, (well most of the time anyway). And so it was one recent Wednesday, when some friends and I were due to meet for our weekly off-road night-time mountain bike ride. All day the rain had fallen and as I got home from work the thought of going out again was not appealing; there then followed a brief "text" conversation between myself and friends that went along the lines of: Me: "I'll go out if you go out", Friend: "Well I'll definitely go out if you go out", Me:  "I'm not bothered though, if you don't want to"… It was the cycling equivalent of a Tarantino-esque "Mexican stand-off"; we could have spent all evening doing this and used it as the perfect excuse not to ride, each blaming the other's lack of motivation as the reason for our laziness. Thankfully we got our act together and arrived in Dunkeld, switched the head-lamps on and hit the rain sodden muddy tracks and trails of Craigvinnean Forest that were doing a good job of imitating rivers. It was fantastic fun and if our faces hadn't been thickly plastered with mud you would have seen the huge grins that adorned our faces throughout the ride. My smile faded as I got home and realised that I would have to hose the mud off the bike before I did anything else; it was dark, still raining, I was soaked to the skin, freezing cold and hungry and it was now 9pm, but I knew that if I didn't do it now I would regret it the next day as I would then spend twice as long scrubbing off the dried encrusted mud from the chain-set and bike frame. I quickly got to work, cursing as I did so, but as I had known, the effort was worthwhile as the next morning I was then able to take a sparklingly clean and freshly oiled bike out of the shed for another ride in the mud.
Scot Tares
Twitter: @SkinnyTyres
Where to Ride: Mountain biking in Craigvinnean, Dunkeld
Where to ride: Craigvinnean Forest, Dunkeld

A fantastic network of off-road single and forest track, with a huge variety of routes, with something to suit all of the family

Location:
OS Landranger Map 52 NO 006419 – Parking at either the Hermitage or Craigvinnean Forestry Commission Car Park
Distance/ climbing:
Various
Details:
The forestry commission car park is a good place to start exploring this vast network of trails. It is advisable to take an up to date OS map as the network is extensive. Single track trails aren't maked on the map, but with some exploring there are many to be found, including some lovely technical downhill sections.
Copyright DC Thompson 2012