 Creaking from the bike
Taken from the Blazing Saddles Column in the Tayside Courier Weekend Supplement 13.10.12
Scot Tares is relieved to find the creaking sound he hears as he rides is not coming from his knees.
"When your bike functions best, you don't hear it – it's silent, there's no cracking, just shhhh – you're gliding."― Ralf Hutter, Kraftwerk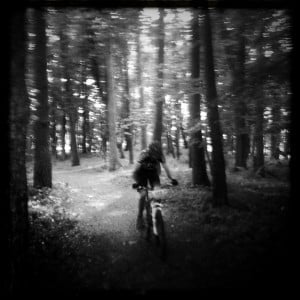 There is nothing more infuriating than a squeak or a creaking sound on your bike and that was exactly what I had; as I rode I recalled the old VW car advert where the driver of the car was mystified as to where a squeak was coming from only to find out after stopping at a garage that it was the squeak of his sleeping passenger's earing. I'm old enough now to have removed all the earrings that I once had in my youth, but thankfully not old enough for the intermittent creak to be coming from my knees; no, this creak was definitely coming from the bike. Like the driver in the advert, I was mystified, as when I stopped and pushed and pulled, turned and spun various moving parts of the bike, it sounded as smooth and sweet as a well maintained bike should, but as soon as my backside was on the saddle and the pedals were turning the noise returned.
Trying to listen to where a noise might be coming from on your bike as you are pedalling is very difficult indeed and as I tried to determine whether the sound was from the front or the back of the bike pedestrians must have thought I was practising some new form of bike yoga as I rode down the street, contorted every-which-way to try and listen to the sound closer. Eventually I settled for the middle of the bike and decided it was the bottom bracket that was at fault, so promptly took my bike to my friendly local bike shop where they fitted a new part. For a day or two this seemed to do the trick, (perhaps my bike, so pleased with the new bottom bracket forgot about its other ailments for a while). However, much to my annoyance, the creak returned and had now developed into a full blown clunk; fortunately, this time it was so loud that it was unmistakeably coming from the back wheel. Since changing the wheels I am now riding again accompanied only with a whoosh through the air, the sound of my breathing and fortunately no creak from my joints just yet. For me a loved bike will purr as you ride and as long as you tend to the occasional creak and groan it will continue to do so for many years. Some people will tell you a well maintained bike is silent, but the only silent bike is one left in a shed – Get out and ride
Scot Tares
Twitter: @SkinnyTyres
Where to Ride: An off-road route around Drummond Hill, Loch Tay
Where to ride: Drummond Hill near KenmoreOff road forest track with some single track
Location:
OS Landranger Map 51 NN 771461
Distance:
Mixed
Details:
Part of Tay Forest Park, Drummond Hill has extensive forest tracks that are suitable for all the family, although the initial climb is quite steep. There is a mix of forestry track and with a bit of exploration you can find some single track. Whilst you are there it is worth visiting the Iron Age hill fort of Caisteal MacTuathal which offers great views along Strathtay.
Copyright DC Thompson 2012