 The Wind is the enemy
Battling the wind in Little Glenshee
"If the wind is not against you, it is not blowing" – James E. Starrs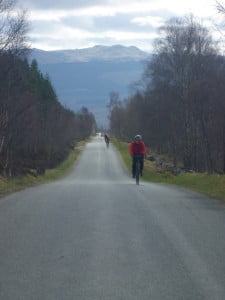 Sometimes I find it hard to motivate myself to get out on my bike. I haven't really figured out why; for someone who likes being out on my bike so much it does seem like a contradiction, but the problem usually rears its head at this time of year when I am yearning to put the mudguards and thermal underwear away. I've got a whole bucket-load of excuses, just waiting to be used: it's too wet, it's too cold, and I'm too tired are some of my favourites.
Last Friday was one such occasion. A couple of friends were going out for a lunch-time ride and the invitation was extended to me. I had a busy morning and to get out for a ride was going to involve some logistical shenanigans; it all seemed like too much effort. Also, despite the shining sun, the wind was blowing a hooly; a perfect excuse. However, telling my friends it was too windy was not going to cut it and thankfully my better sense prevailed. I managed to get home quickly, change and then race, well crawl would be more appropriate, out into the head wind to meet my friends.
We rode 16 miles, half of which was battling into the wind that was being hurled down Glenshee. It was tough, we cursed through our gritted teeth and we complained amongst ourselves, but as is always the case when we are on our bikes, we couldn't help but smile; in a masochistic way, that only those who have battled into such conditions can really understand, we were enjoying ourselves. The cherry on the top came as we turned at the fording of the Shochie Burn and rode towards Glen Almond; the wind that had been our enemy now became one of life's simple pleasures and gave us a mighty push back home.
Route details below.
| | |
| --- | --- |
| Route: | Little Glenshee – road ride |
| Distance: | 16 miles/ 26km |
| Climbs: | 600ft/ 183m ascent |
| Start/ finish: | Bankfoot – OS 1:50,000 Map 53 – NO067 353 |
| Details: | From Bankfoot turn left off of the B867 onto the unclassified road that leads past Auchtergaven Primary School. Follow this road towards Tullybelton House where you turn right onto the road towards Little Glenshee. After crossing the ford at the Shochie Burn you will turn south east and follow a newly resurfaced road towards Glen Almond. Turn right on the junction onto the B8063 and follow this until the cross-roads at Moneydie where you will turn left and follow the road back to Bankfoot |