 A family cycle ride through a National Nature Reserve just across the water from Dundee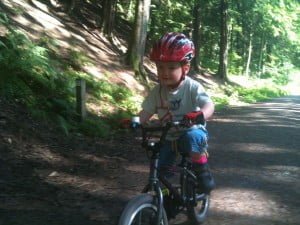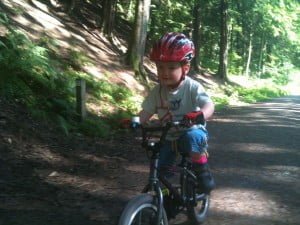 "The world lies right beyond the handlebars of any bicycle" – Daniel Behrman
Tentsmuir forest and Kinshaldy beach have long been a favourite for day-trippers from Fife and Dundee. I can remember long hot summer days spent playing on the beach, or so my rose tinted memory tells me. We would never venture further than the beach however and it is only in recent years that I have taken the bike into the acres of forest that lie behind the sands.
The vast coastal plain on which the forest sits never rises above a height of ten metres above sea level, so the tracks and trails are pan flat and sandy-edged making it an ideal venue for a family cycle, especially if you have small children. Within the trees there is a miles-long maze of forestry vehicle tracks that can be followed all day, indeed over many days, allowing you to get to know the area in more and more detail and add it to you "local patch" of favourite cycling venues.
As you would expect in a large nature reserve, there is an abundance of sights to see from the comfort of your saddle, from a large colony of grey seals and World War II anti-tank defences down on the beach, to old disused ice houses from the salmon-fishing days. This is a place that you want to take your time riding around and soak in the sights, smells and sounds, so don't forget to put your map away now and again and follow your nose; leave the main tracks; explore those little trails that lead off into the trees; you won't regret it and you'll come away wanting to go back to see more.
There are three main access points to the forest: Lundin Bridge at Tayport, Morton Lochs and Kinshaldy and all are fantastic points to explore from, picnic facilities available at the Kinshaldy car park.
For those looking to add some gentle single-track fun to the outing, it is worth exploring a small network of trails that run north from Kinshaldy car park parallel to the beach. These tracks wind through the trees with and one small short section that rolls like a roller coaster is bound to delight any young children in your group
Scot Tares
Copyright DC Thompson 2012 – Originally Published in the Courier 10th March 2012
Route details below.
Route:
Tentsmuir Point Nature Reserve
Distance:
various
Climbs:
No climbs
Start:
Kinshaldy – OS 1:50,000 Map 59 – NO488 236Morton Lochs – OS 1:50,000 Map 59 – NO465264

Lundin Bridge – OS 1:50,000 Map 59 – NO467278

Parking:
There is parking at each of the three start points. Please check the website for charges and entry times.
More details at:
http://www.tentsmuir.org