 Christmas is a time for bikes
Ride your bike and eat more mince pies
Originally published in the Courier 22.12.12
As the decades pass by and toys go in and out of fashion, each Christmas brings another "must-have" item on children's lists for Santa. However, one item that never seems to go out of vogue is the humble bicycle; it's been a staple favourite for children around the world and still remains a must-have Christmas list item for kids of all ages to this day. Thinking back to my own youth, I remember meeting all my friends out on our street in Dundee, mid-morning on Christmas day to give our new bikes a test run; usually our motley peloton in those days consisted of a few drop bar "racing" bikes, a Grifter and possibly even a Chopper. We spent a few hours testing them out for speed and their ability to ride ramps "Evel Knievel" style (riding a "Raleigh Racer", not something I was entirely successful at), before the cold defeated us and the prospect of more chocolate, Christmas dinner and a read through the new Oor Wullie or Broons annual before bed drew us back to our respective homes.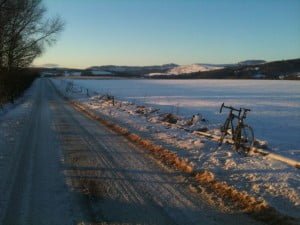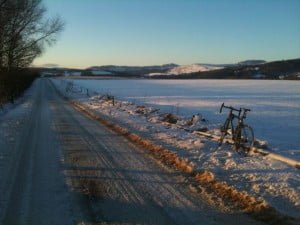 It is heartening to see that bikes are still high on Christmas wish-lists and that come the 25th  of December, those lucky enough to get a bike from Santa will be out on the streets burning off some calories and making some room for their Christmas pudding. Nowadays, however, it is not just children who are out on bikes on Christmas day showing off their new cycling kit; riders of all ages will be hoping that the parcels under the tree are two-wheeled related. However, if new bikes and kit aren't motivation enough to get out on your bike over the festive period why not set yourself a challenge of completing a set distance during the Christmas holiday. There are established challenges already out there, such as the Rapha Festive 500 in which you can try and log 500km of rides between the 24th and 31st December, but there is no reason why you can't set your own challenge, no matter how difficult or achievable. It is a great time to get out on your bike, as many of us are lucky enough to have some time off work over this period and what better way to spend your time off than riding your bike, especially when it means you have an excuse to eat another mince pie when you get back home.
Type www.google.com in the text box, click OK, and close and open the browser to see the new homepage. Go to Tools in the menu bar at the top of the browser and select Internet Options, then the General tab. Under Make Google my Homepage, type in "http://www.google.com/" in the text box and click OK.
Merry Christmas – Get out and Ride
Scot Tares
Twitter: @SkinnyTyres
Where to Ride
Where to ride: Balhomish and Birnam Glen
Location:
OS Landranger 1:50,000 Map 52Start –The Hermitage, Dunkeld
Distance:
4miles/ 7km
Details:
This mountain bike ride is a favourite with locals and has some technical sections.Starting at the Hermitage, head out west towards Rumbling Bridge. Just after crossing the bridge a marker points the start of a short, but technical and rooty single-track. At the end of this, cross the A822 and head up the track towards Balhomish farm. Just before the farm, turn left and follow the track that descends through Birnam Glen, hugging the side of the Inchewan Burn. You can easily get back to the Hermitage from here by heading to Inver via the footpath that starts at the Dunkeld recreation ground and which heads under the A9.
Blazing Saddles copyright DC Thompson 2012
Originally Published in the Courier 22.12.12