 Cycling around the North Inch in Perth
A fine balancing act around the North Inch in Perth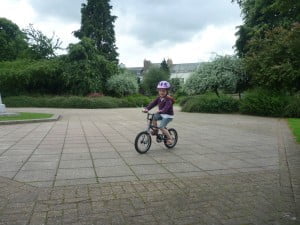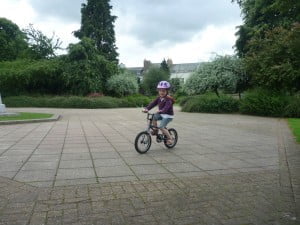 A recent survey commissioned by the Big Lottery Fund found that 87% of children aged between seven and 15 regularly played computer games. However, debunking the assumption that our children are becoming a generation only interested in sedentary activities the poll also found that more than half (56%) of children surveyed currently go cycling and an additional 13% would like to have the opportunity to do so.
Parents can often be a key to whether children cycle or not and if they are enthusiastic they can open up a whole new world of discovery for them and their family. So your children want to ride, you want to get fit, what better excuse to get out on your bikes this weekend and go for a family cycle ride.
"Sighing for new worlds to conquer, I determined that I would learn the bicycle." – Frances Willard
Balance Bikes
Getting children cycling used to involve a period of learning on stabilisers. For many it still does, but a quiet revolution in how children learn to cycle is taking place. Balance bikes are nothing new. The forerunners of today's bikes were wooden frames on wheels, propelled by the rider's feet on the ground. The balance bike follows the exact same principle and its beauty is that the rider learns to balance, which when you think about it, is the key to riding a bike. Once learnt the rider can then scoot along to their heart's content and then when they are ready to progress to a pedal bike without stabilisers, they will have learnt the hardest part. The rest will be as easy as, well, riding a bike.
Tayside and Fife are blessed with a huge amount of green space areas and parkland that are ideal for children on their balance bike or just starting out on their pedal bike.
One of my favourites, where both my children learnt to balance and cycle is the North Inch in Perth. Situated right in the heart of the city, its circular path has a good surface for young children to ride on and is flat enough that even the youngest children will have no problems. Close to the centre of Perth, it's very accessible for many and with amenities at the Bell's Sport Centre and a play park on its route, it is a great place to take those first few bike rides.
Route details
| | |
| --- | --- |
| Route: | A circular route around the North Inch in Perth |
| Grade: | Easy – Suitable for all levels of cyclist, including young children. |
| Distance: | 1.6 miles per circuit (2.6km) |
| Climbs: | No climbs |
| Start & Finish | OS 1:50,000 Map 53 – NO118239 |
| Parking: | Parking at the Bell's Sport centre or street parking also available. |
| For the more adventurous: | The route can be extended towards Inveralmond and from there the rider can join cycle paths to Luncarty or Huntingtower |