 The biley-up and drum-up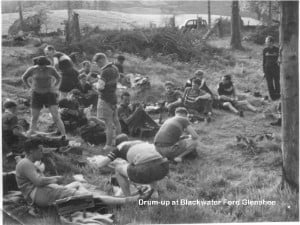 Scot Tares tells us of the "old-days" when a cup of tea was enough to let you cycle 280 miles in one day.
There used to be a time when the "biley-up" was a key part of cycling club tradition. The impromptu stop to brew up a pot of water for a cup of tea often happened several times during a ride and clubs and riders had their favourite spots to stop at for a "brew".
The last "biley-up" that I was at was on the banks of the Tay by Dunkeld as part of the Perth United CC Christmas ride. Being Christmas it was not polite to just brew up a pot of tea and more often than not a wee tipple and a few sausages cooked over an open fire were part of the deal. That year I ended up in the bad books as my old shaggy lurcher, who I had taken along spotted, a string of sausages in a saddle pack and he was off with them quicker than a bunch of cyclists in cleated shoes could chase.
Next in order to download Xender for PC, it should have at least 4GB of RAM. Having 4GB of RAM is getting common these days and also it's not that costlier. download xender app Having this much primary memory can help softwares (also in our case) to run without any performance issues or lags.
Nowadays the café stop is an integral part of cycling club life, but preceding that was the "biley-up". William Mclennan, who rode for Charles Star CC in Dundee and was a key figure in the Dundee Centre representing all the Tayside clubs, told me of a ride report he read in the Forfarshire RC club book that detailed an impromptu ride in 1964. "Members left the gates at 12.30am on Sunday morning…" it began and then went on to describe a ride of over 280 miles taking in Lochearnhead, Glen Ogle, Crianlarich, Glen Falloch and Stirling. By the time they got to Glen Devon for their second boil-up of the day they were starting to tire, "The run from Glen Devon was 'pure hell' with the sun, sore legs and sleepiness taking their toll. A good time was had by all… or so they said".
It proves the masochistic nature of cyclists and as I sit here and type I'm thinking to myself, "that does sound like fun and I know I've still got the old "biley-up" kettle in the shed somewhere."
Get out and ride
Scot Tares
Cycle Route
Cycling in Glen Devon and Glen Eagles
Where to ride: Dunning – Glen Devon – Glen Eagles
Location:
OS Landranger 1:50,000 Map 58Start/ Finish – Dunning: NO 019145
Details:
25 miles/ 40 km road rideFrom Dunning ride up the Common of Dunning (B934) for 3 miles of ascent before descending back down to the Yetts o' Muckhart. Just before you reach the Yetts, turn right into Glen Devon on the A823 and follow this road through Glen Eagles and onto Auchterarder. Follow the A824 through Auchterarder before turning right onto the B8062 back to Dunning.