 The Snow Roads Audax
The Snow Roads Audax
A challenging ride on the snow roads of Angus
Audacious – adjective extremely bold or daring; recklessly brave; fearless: an audacious explorer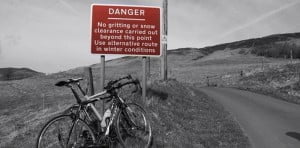 Starting a little over 100 years ago, Audax rides, the name is derived from audacious, started in Europe as loosely controlled group rides, where cyclists would complete a set distance, measured in kilometres, and be timed through a number of control points, with evidence being stamped on the back of a control card, known as a brevet card.
Still as popular as ever there are literally hundreds of these rides going on throughout the year on quality routes in the UK.
The Snow Roads is an Audax event organised by Alex and Allison Pattison who are members of Angus Bike Chain Cycling Club; together they have organised it for the last four years and this year looks to be bigger than ever with more and more riders entering.
"The best rides are the ones where you bite off much more than you can chew, and live through it" – Doug Bradbury
The 300km route has taken on a mythical status and is regarded as one of the hardest in the UK, with almost 5,000 metres of climbing. If you listen to the winter travel reports, you will be very familiar with roads such as Cairn o'Mount, the Lecht, and the Cairnwell often being the first to be closed due to snow, hence the name of this route. The time limit is just over 20 hours, with riders setting off at 6am and the fastest completing the route in about 13 hours. However, Audax events are not meant as races and the challenge is completing the route in the time limit.
If it all sounds a little too adventurous for you then the Pattison's also run a shorter 100km ride, run on the same day, known as "Potter for tea", which is much more relaxed with a time limit of just under 9 hours.
Both events attract riders from all over the UK; club cyclists, triathletes, tourers, mountain bikers and leisure riders have all tackled the challenge and it has even been completed by a couple on a tandem.
In recent years there has been a surge in sportive cycling events that, like an Audax are non-competitive timed rides.  So if you are wondering what the difference between the two is, I'll leave you to ponder on the old joke:
Q: what's the difference between a sportive and an Audax?
A: a Sportive is for people who like to pretend they are racing;  an Audax is for people who like to pretend they are not racing.
The Route: Cairn O'Mount
Grade:
Hard – road route
Details:
12 miles/ 20km. A variety of routes can be added to extend the distance of this ride.
The climb
OS 1:50,000 Map 45 – NO650735
Start/ Finish:
Fettercairn – Cairn O'Mount – Fettercairn
The Climb
Details:
2.1miles/ 3.5km at an average of 8.9%, starting from Clatterin Brig
For the more adventurous:
Details of the Snow Roads Audax can be found at:

http://www.aukweb.net/events/detail/12-68/