Cycle coaching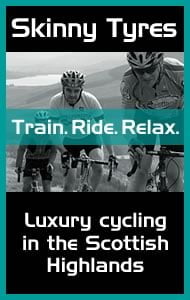 At Skinny Tyres we will help you make get the most out of your riding and coach you to new levels of performance. We will remove the confusion from training, giving you a plan to work from that suits your goals and targets as well as fitting in with your daily commitments.
It takes time to improve in cycling, but with commitment and a smarter approach to your training, the goals you want to achieve will be achievable.
Choose either bespoke coaching sessions, or book on one of our "Improve your Skills" weekends
At Skinny Tyres we can provide:
Hands on coaching delivered by UKCC qualified British Cycling Coaches
Training plans built around your lifestyle and commitments
A free personal consultation at the start of your programme
Coached training rides
Quality training that is focussed on your goals, so no more wasted hours
Professional Bike Fit
On-going feedback to keep you on track
Additional services are available on request
At Skinny Tyres we believe that you should receive quality coaching that is specific to your needs, whatever level you are at; so you will receive the same level of attention and feedback, whether you are a grass roots junior rider, a newbie sportive rider, an aspiring racer or top of your game.
Our all-inclusive package will be personalised to your needs and the level of support will reflect that.
Package

Cycle Coaching

Personal Initial consultation

Free

Customised Training Plan

included in package

Setting Goals and Objectives

included in package

Monthly discussion with Coach

included in package

Additional Feedback by email

included in package

Training Diary reviewed

included in package

Pricing

Set up fee (applicable only on month to month option)

Month to Month

6 month option (no set up and 10% reduction)

12 month option (no set up and 20% reduction)

Professional Bike Fit

An existing bike fit, to minimise the risk of injury, increase performance and safety. The bike fit will take two hours and include a detailed interview about your riding style. We will conduct flexibility tests and then get you on your bike and check the bio-dynamic fit of your current riding position.

Coached Training Ride

From £40 per hour –

Suitable for:

Road skills/ performance
Time Trial skills/ performance
Mountain bike skills/ performance
Personal Initial consultation – An initial meeting that will form the basis of your training plan. We will discuss your current training and future goals and aspirations.
Customised Training Plan – A plan designed exclusively for you with workouts that are focussed on your areas of improvement. The plan will also be designed to fit in with your lifestyle and commitments. You will also be provided with an electronic training diary that you will be expected to keep up to date.
Setting Goals and Objectives – Built into your plan will be your targets for the coming year. We will help you structure your training towards your targets to ensure you attain your optimum performance for these key events.
Discussion with Coach – A regular discussion with your coach to feedback on how you are progressing and adapt your training relevant to your progress.
Additional Feedback by email– Further advice and guidance as well as access to additional workouts to your training plan to keep things fresh, keep you motivated and progressing forward.
Training Diary reviewed – We will provide on-going feedback on the training diary you complete.
If you have any questions about our training packages, then please get in touch.